Installing a solar panel on a bike may sound simple at first. But if we want to do long distances, we are tempted to embark a large area of solar panels and the installation becomes more complex. The creativity of each suntriper has given birth to many original solutions.
The table below shows the variety of combinations selected by the participants in the different editions of the Sun Trip.
Position of solar panels
Bike Type
at the front
roofing
at the back
on trailer
2 wheels bike
classic Bike
+
++++
tandem
+
cargo bike
++++
+
+
++
recumbent bike
++++
++
3 wheels bike
trike
++++
+
tandem trike
++++
velomobile
++++
+
In the Sun Trip, the regulations allow an area of ​​solar panels of 2.5m², which corresponds to a maximum power of 500Wp (visible panels). The installation of such a surface of panels is not simple and can also guide the choice of the type of bike: tandem, cargo bike, recumbent bike, recumbent tricycle (trike), or encourage the addition of a trailer. The constraints encountered sometimes oblige the designer to install a smaller surface area of ​​panels, to the detriment of the autonomy of the vehicle.
With cargo bikes, tandems
On Raf van Hulle's recumbent / seated tandem, the front seat is sacrificed to accommodate a panel, completed by another panel on a trailer (Sun Trip 2013, 2015, 2018). This front arrangement is found on cargo bikes, except for the cargo bike tested in 2013 by Lionel Candille with roof panels. In 2018, Eric Morel also has a panel attached to the back of his cargo bike.

With recumbent bikes
The panels are very frequently installed on the "roof" on recumbent bikes and are sometimes supplemented by a panel on a trailer.

With single-seater and tandem trikes
As on recumbent bikes, the panels are always installed on the "roof" on tandem trikes, almost always on single-seater trikes. They are sometimes supplemented by a sign on a trailer on single-seater trikes.

With velomobiles
On Sun Trips, velomobile panels are always installed on the roof. Outside of the Sun Trip, Joerg Gebers crossed China in 2020 with signs on a long, very low trailer.

With classic bikes
In this case, the panels are almost always installed on a trailer, with one or two wheels, of various dimensions.

One exception: Daniel Jenni who installed his "roof" panel on a classic bike for the Sun Trip 2018.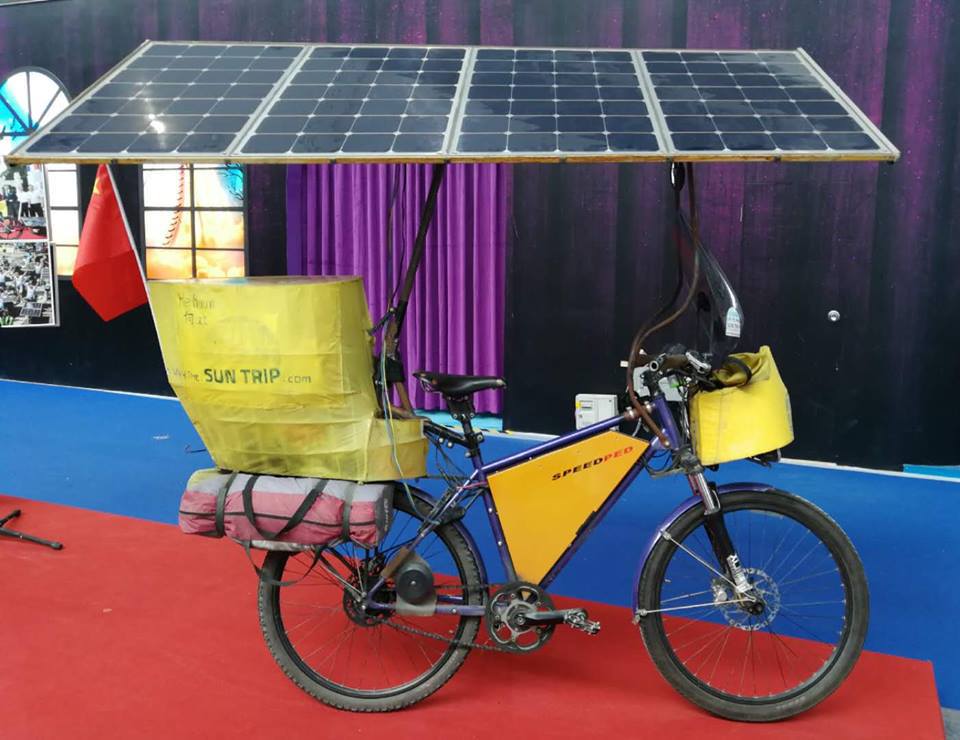 Hits: 719