There are the fastest solar cyclists, some are already in China, others will get there soon. But the others, where are they?  The majority of them are spread along the northern route traced by Raf Van Hulle.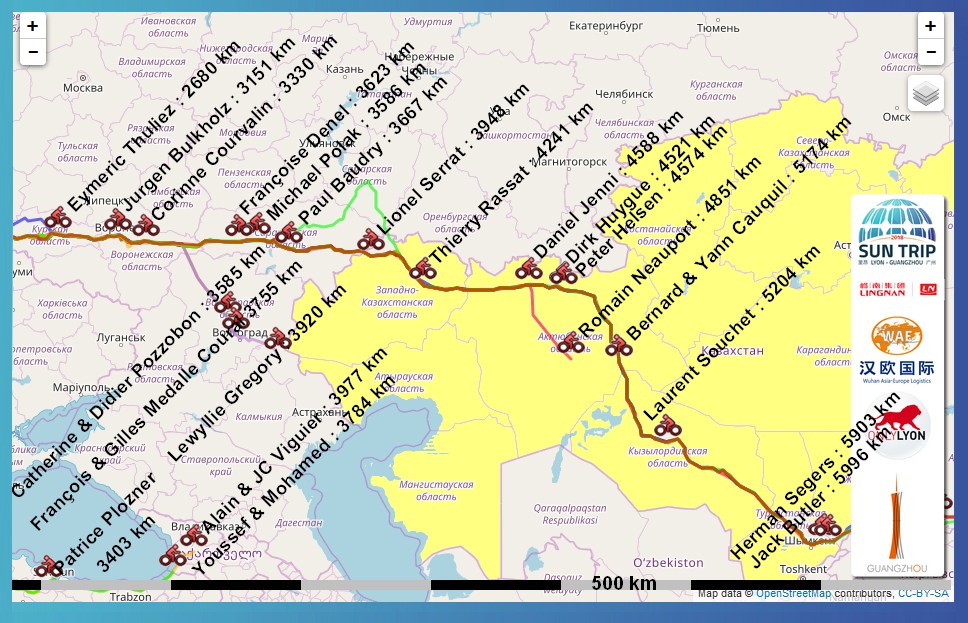 The first ones cross the steppes of Kazakhstan:
Jack Butler who will soon pass the 6000 km heading,
Herman Segers,
Laurent Souchet,
Yann and Bernard Cauquil,
Peter Helsen and Dirk Huyghe, who ride together,
Daniel Jenni and his original bike,
Romain Neauport who is now inventing his own road,
Thierry Rassat,
and finally, Lionel Serrat who just passed the border.
The following are in Russia:
Paul Baudry,
Michael Polak,
Françoise Denel the dean who totals more than 3600 km,
Corinne Courvalin,
Jurgen Bulkholz,
Eymeric Thuliez. No more cyclists are in Ukraine. Michel Bamps has abandoned the Sun Trip due to major technical problems.
Some have bifurcated to the south:
Catherine and Didier Pozzobon,
François Medale and Gilles coural,
Lewyllie Gregory with his bamboo bike.
They are approaching those who had chosen the southern route from the beginning:
Justin Lemire-Elmore and Anne-Sophie Rodet who are in Iran,
Alain and Jean-Claude Viguier who are in Georgia as well as :
Youssef El Haouass and Mohamed Saïd Jeberi.
Patrice Plozner is still in Turkey.
Hits: 81