In spring 2020, the departure for China had been postponed to 2021. Unfortunately, the global health situation still does not allow such a destination.
It is the reason why the 2021 edition of the Sun Trip will take place in Europe! We all hope that spring will bring an improvement in the health situation and a relaxation within the European area.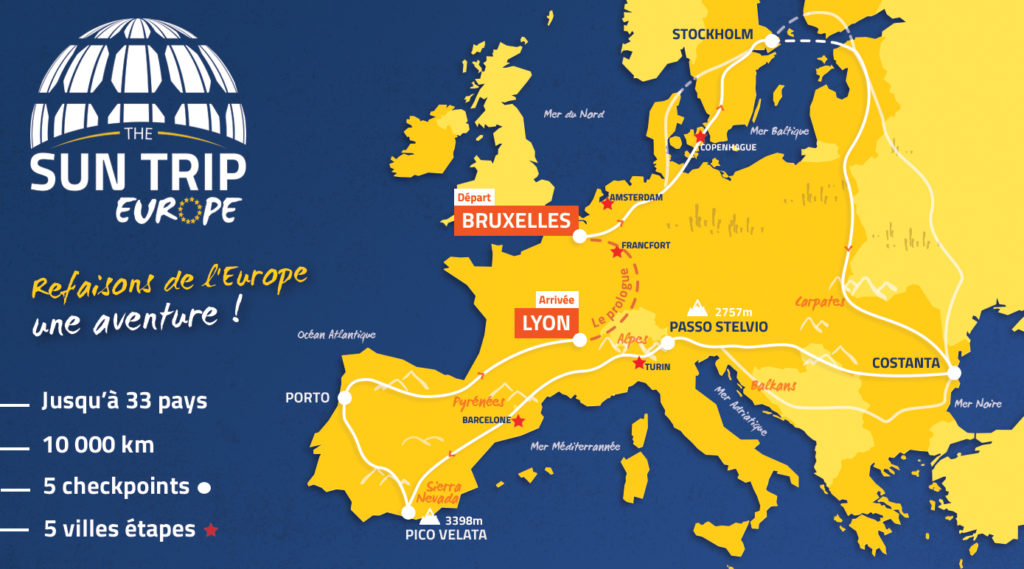 After a prologue between Lyon and Brussels in the first half of June, the big start will be given in mid-June in Brussels for an arrival in Lyon in less than 100 days. Participants will have to go through 5 compulsory check-points:
– Stockholm in Sweden,
– Constantza in Romania,
– the Passo dello Stelvio in Italy,
– the Pico del Veleta in Spain,
– Porto in Portugal.
Between these compulsory passage points, participants are free to choose their route.
Some countries are essential: Belgium, Netherlands, Germany, Denmark, Sweden, Estonia, Latvia, Lithuania, Poland, Romania, Italy, Spain, Portugal.
But in Eastern Europe in particular, many alternative routes are possible between Ukraine, Belarus, Slovakia, Hungary, Bulgaria, Serbia, Croatia, Slovenia, Austria …
Hits: 97